History
(Topic)
We use topics to deliver humanities subject skills and understanding. Our topic programme is based upon the National Curriculum expectations and is carefully balanced and planned to be age appropriate across the years. Topic overviews are in place to show how the children will have a rich and varied topic journey whilst with us at Roade Primary School.
The knowledge and skills covered and links to other parts of the curriculum are clearly made by the staff at their medium term planning meetings before the new topic starts.
It is important to us that art, music, literacy and where appropriate numeracy and science are linked in topic teaching. So, for example, a history Romans topic could include urn making in art, catapult construction in design and technology and catapult testing and measuring in maths and science.
Our topics have a history and geography base so that we teach location and place knowledge, weather and climate skills and knowledge and about significant historical events, people and places in our own locality. Topic time also provides further opportunities to learn about people and cultures. A timetable of trips to support pupils' learning and to enhance the curriculum is published as part of our long term planning.
Humanities Programmes of Study:
https://www.gov.uk/government/publications/national-curriculum-in-england-geography-programmes-of-study
https://www.gov.uk/government/publications/national-curriculum-in-england-history-programmes-of-study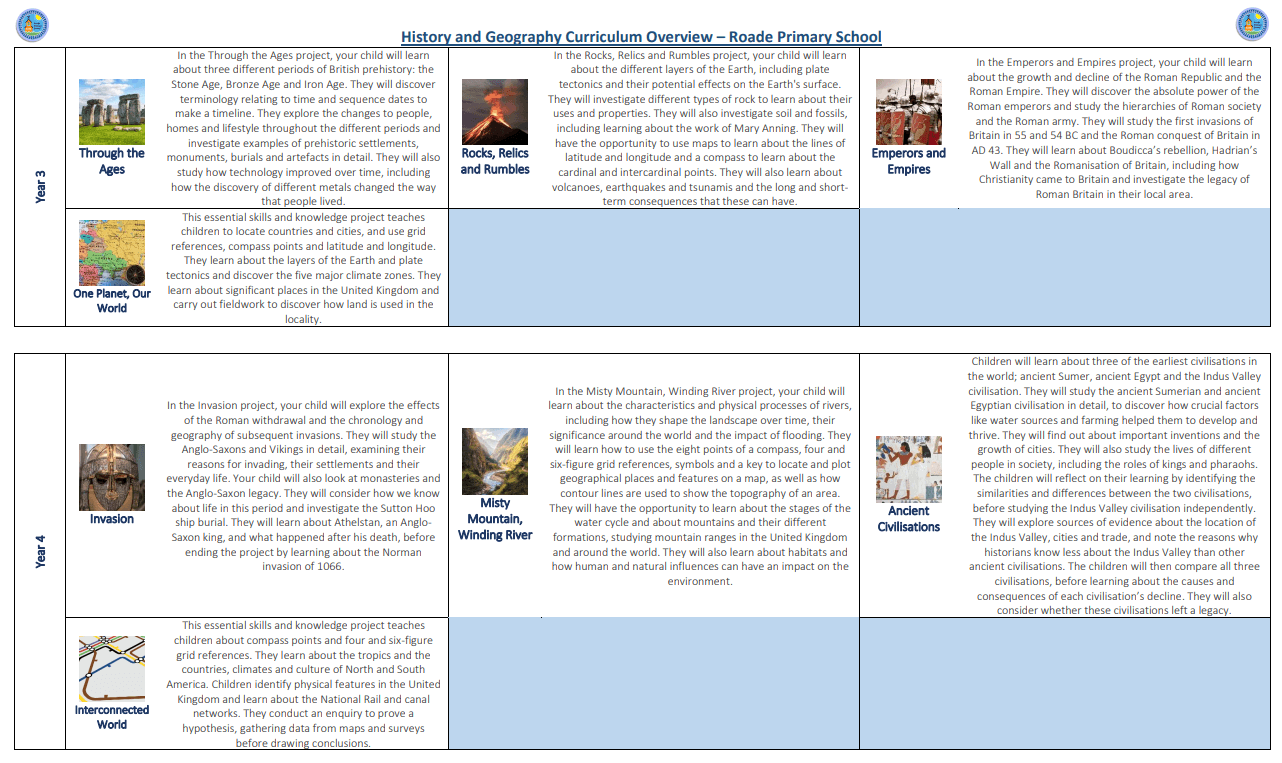 Intent
The intent of the History curriculum at Roade Primary School is to develop pupils' capacity to think freely, critically and independently. History as a subject has changed beyond the expectations and the limitations of just knowing what happened and when. Whilst a broad knowledge of chronology is essential for pupils to contextualise and order events, their depth of understanding, within each topic of study, is paramount to their development and later success.
"They should know where the people and events they study fit within a chronological framework." National Curriculum expectations for KS1.
"Pupils should continue to develop a chronologically secure knowledge and understanding of British, local and world history, establishing clear narratives within and across the periods they study." National Curriculum expectations for KS2.
It is important and necessary for children to be given the time and space to consider, and question, the complexities of significant events throughout history. In learning the 'how' and the 'why', pupils can decide for themselves the way in which the 'what' and 'when' are regarded. For example, the legacy of the First World War.
A key underpinning principle of the History curriculum at Roade is that children understand that what is known of the past is constructed of a range of sources. It is intended that children, by the end of Key Stage 2, have a critical awareness of the limitations of these sources. Many secondary sources provide an opportunity for learners to read at an age-appropriate level in a different context from English lessons. In essence, it is intended that pupils gain historical knowledge and historiographical skills simultaneously. Through quality first teaching and learning, all pupils can make progress, with additional focus given to those of a social and economic disadvantage, to close gaps in their knowledge and skill set.
Implementation
History is taught in termly blocks throughout the year, so that children have time to achieve a depth of experience and knowledge. Teachers have identified the key knowledge and skills of each topic and consideration has been given to ensure progression across topics throughout each year group across the school. By the time children leave Roade Primary School, they will have accessed lessons delivering a chronological understanding of a number of periods in British history from the Stone Age to the present day. Lessons draw comparisons and make connections between different time periods and the lives of the children in the school community. Interlinked with this are studies of world history, such as the ancient civilisations of Greece and the Egyptians.
Cross curricular outcomes in history are specifically planned for, with strong links between the history curriculum and literacy lessons enabling further contextual learning. English unit plans - 'The Write Stuff' - complement the topic of study across different age ranges. Within our knowledge-rich and skills-rich approach, there is a strong emphasis on people and the community of our local area. The local area is utilised to achieve desired outcomes, with opportunities for learning outside the classroom, at the nearby Courteenhall Estate. This is embedded in practice. Planning is informed by and aligned with the national curriculum. The Early Years Foundation Stage (EYFS) follows guidance which aims for all children in Foundation Stage to have an 'Understanding of the World; people and communities, the world and technology' by the end of the academic year.
Consideration is given to how greater depth will be taught, learnt and demonstrated within each lesson, as well as how learners will be supported in line with the school's commitment to inclusion and SEND. Staff are supported with continued professional development and training to achieve a level of confidence in teaching History.
Impact
Outcomes of work are monitored to ensure that they reflect a sound understanding and application of the key identified knowledge and skills respectively. The school utilises the Target Tracker data management system on a termly basis to review learning outcomes on a child-by-child basis.
Outcomes in topic, and literacy, books evidence a deep and balanced history curriculum and demonstrate the children's acquisition of identified key knowledge and skills. Children have the opportunity to review the learning objectives at the end of every session and are actively encouraged to identify their own target areas with support from their teachers. Children are also asked what they have learned comparative to their starting points at the end of every topic.
Emphasis is placed on analytical thinking and questioning which helps pupils gain a coherent knowledge and understanding of Britain's past and that of the wider world and are curious to know more about the past. Through their studies, pupils learn to ask valid and relevant questions, think critically, weigh evidence, synthesise arguments, and develop perspective and judgement.