Maths
At Roade Primary School we embrace the Mastery approach to teaching mathematics. Our teachers will ensure that mathematical skills are taught every day following the white Rose Maths Programme. Staff draw upon a wide range of resources and expertise to ensure that the children are challenged and motivated. They also use cross curricular opportunities to develop pupils' mathematical fluency. Our pupils understand the importance of mathematics, are encouraged to be confident in numeracy and to apply the skills that they learn to simple problem solving.
The activities cover a wide range of mathematical knowledge, many with an emphasis on practical work. In each lesson there is a short and simple mental maths session. We build on skills and understanding in a step by step and progressive way and continue to develop place value, the four number operations and the understanding of fractional parts.
National Curriculum Mathematics Programmes of Study:
https://www.gov.uk/government/publications/national-curriculum-in-england-mathematics-programmes-of-study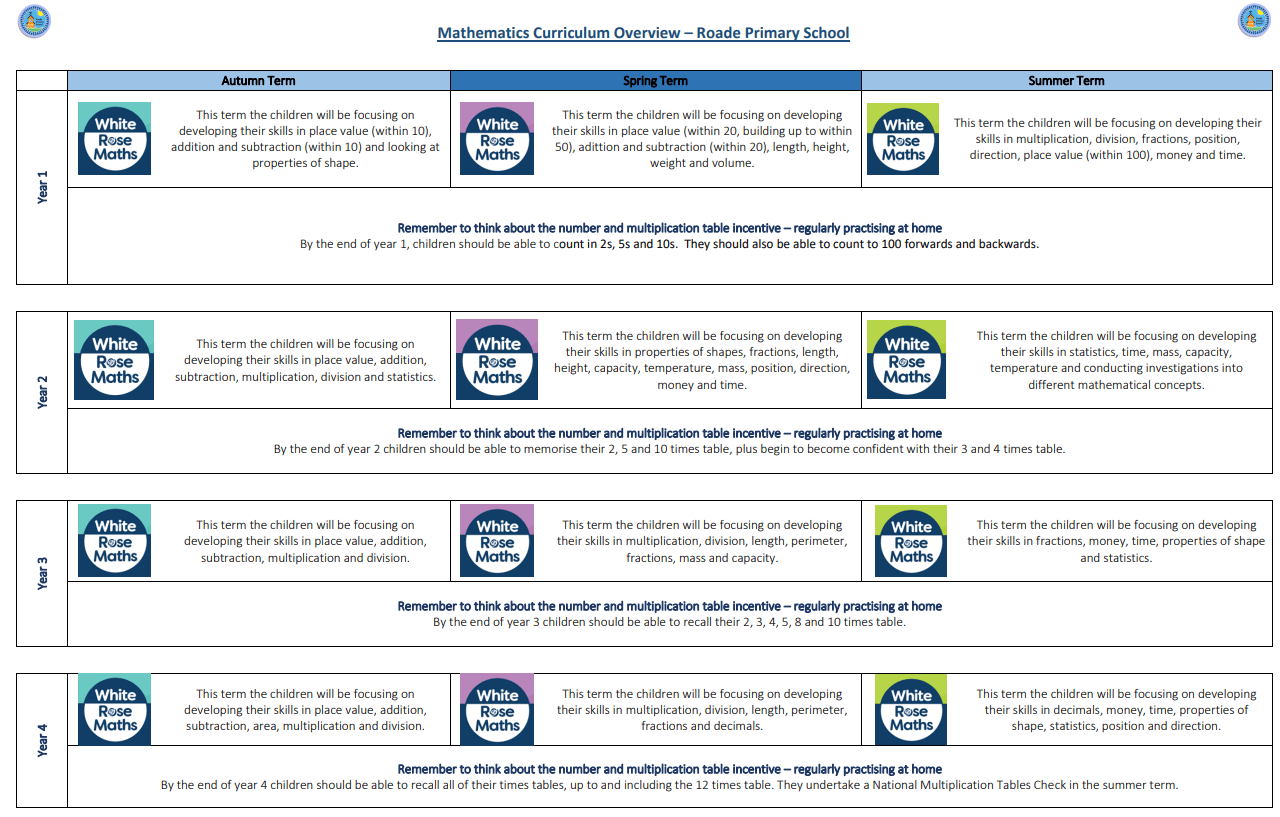 Intent
At Roade Primary School our aim is to build confidence within mathematics, through teaching the curriculum in a structured, coherent order that allows for steady progression from EYFS to year 6. We aim for children to feel skilled in problem solving so that when they encounter a challenge they see it as an opportunity - not a barrier. Our quality mathematics lessons allow children to cover the skills required to meet the aims of the National Curriculum and to encourage passion for the subject. As a school, we use the White Rose Maths Curriculum. Teachers will use White Rose Maths Schemes of Learning to plan lessons, choosing suitable resources from White Rose and other providers to help children take small steps to progression. The Schemes of learning make sure topics are introduced to children in a logical order and revisited throughout the year to encourage deep learning and ensure children have the foundational knowledge they need, before moving on to more advanced maths and concepts and tackling more challenging number problems. Ou core aims are:
lessons to incorporate a mixture of arithmetic, varied fluency and reasoning and problem-solving style work
learners to be supported with a range of concrete, pictorial and abstract approaches to learning
no child to feel they are less capable within mathematics, or restricted in the level of work that they can achieve.
Implementation
Maths challenge used, at least 3 times a week to support revision of prior learning within mathematics
Lessons will include teacher input, modelling of examples and opportunities to discuss misconceptions.
Children will be encouraged to use the appropriate mathematical language to communicate their learning.
Children will complete tasks that helps to develop their fluency and reasoning.
In the EYFS, play-based activities will provide children with opportunities to develop a strong grounding in number.
There will be an appropriate level of challenge for all pupils.
Manipulatives should be available for children to access.
For children who are not working at the expected level for their age, teachers will provide targeted work to close gaps and ensure rapid progress
Identify training needs for teachers and support staff (providing training for all the use of the CPA approach).
Carry out subject monitoring through learning walks, pupil voice questionnaires and triangulation
Support with planning to ensure consistency and challenge.
Impact
The following will be used to see the impact of the mathematics curriculum at Roade Primary School:
Termly White Rose Assessments (3 times a year) to measure individual children's progress within each topic covered. This applies to year 1, 3, 4 and 5 - in years 2 and 6 previous SATs papers will be used. EYFS are to use their standard teacher assessment methods.
Teachers, of years 1 to 6 can use the end of topic assessments if they wish.
Children to talk about mathematics positively
Lessons to be varied and engaging