Music
In their music lessons pupils use their voices expressively and creatively by singing songs and speaking chants and rhymes. Assemblies will also provide an opportunity to practise singing.
The school participates at young Voices each year.
Pupils will also be taught to play a variety of instruments musically and encouraged to play together in ensemble groups. We encourage listening to a wide range of music with concentration and understanding.
Music lessons can be linked to Topic work and music is used in a variety of lessons and activities to create, mood, atmosphere and to help thinking.
The Charanga programme will support our teaching of music across the school.
National Curriculum Music Programmes of Study:
https://www.gov.uk/government/publications/national-curriculum-in-england-music-programmes-of-study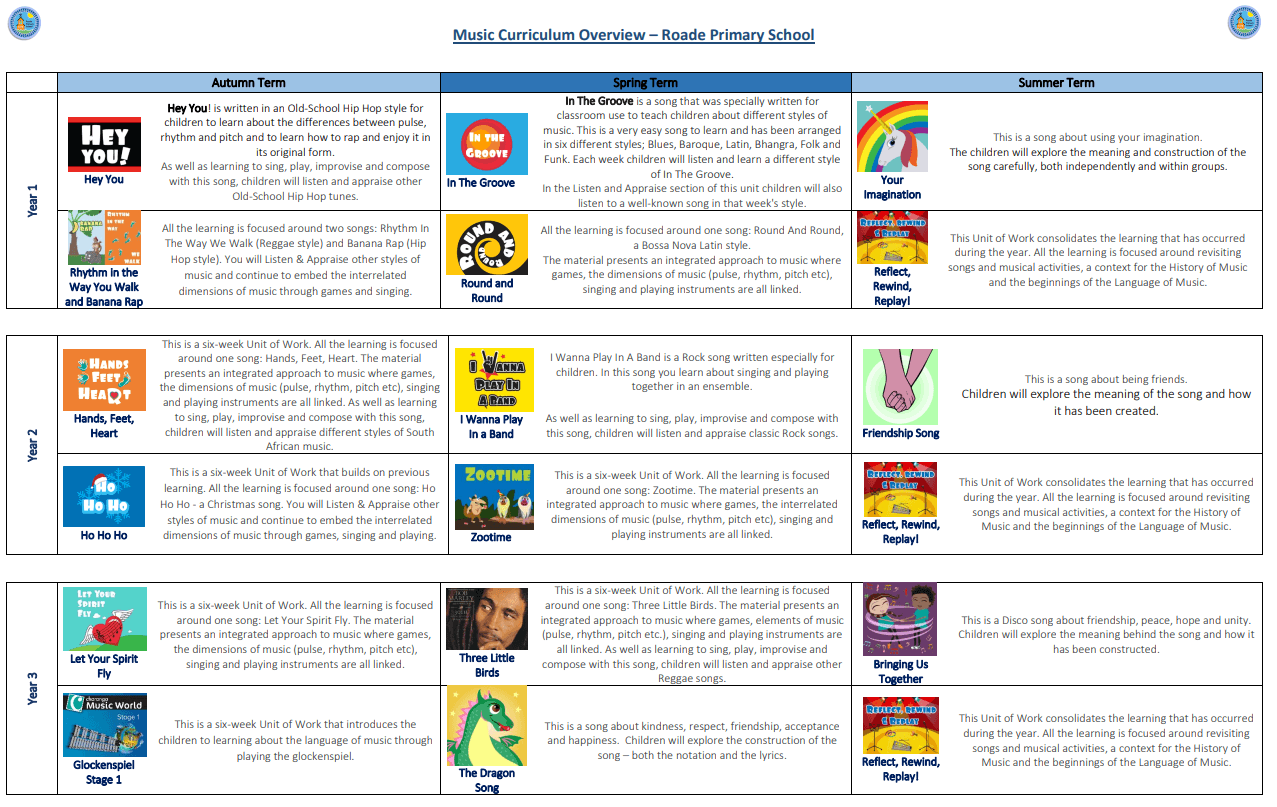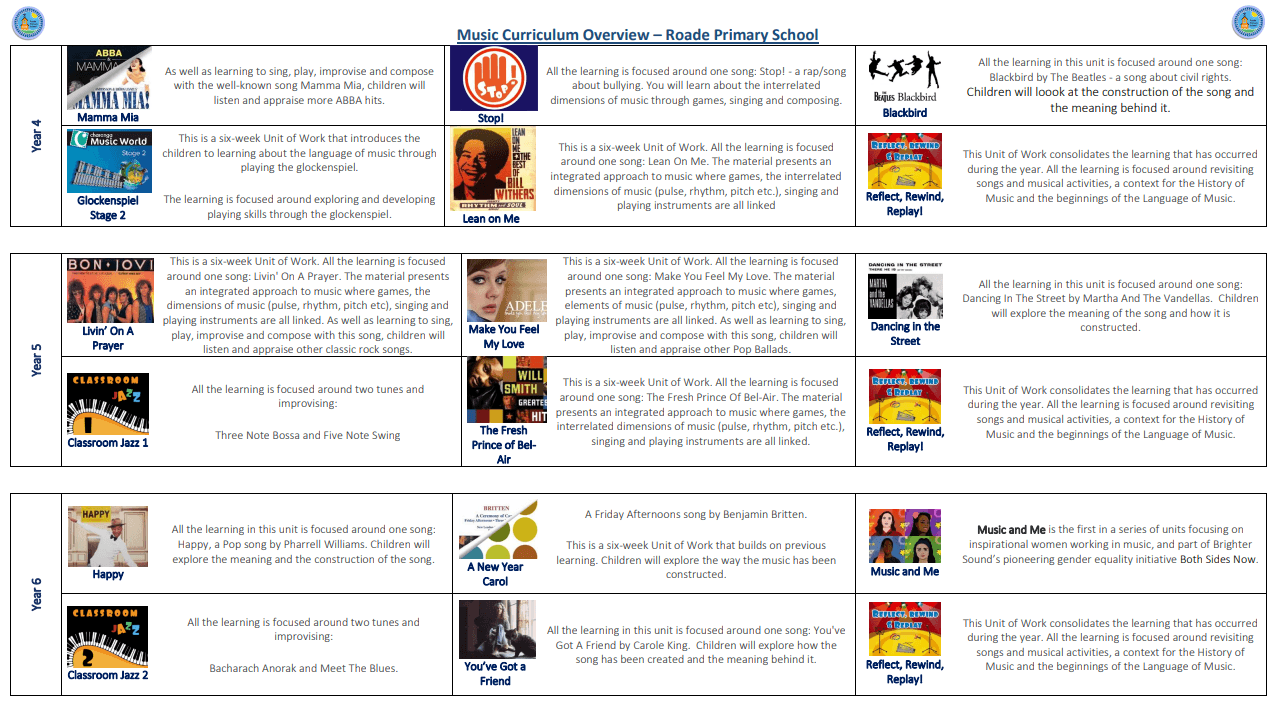 Intent
The National Curriculum for music aims to ensure that all children:
perform, listen to, review and evaluate music
are taught to sing, create and compose music
understand and explore how music is created, produced and communicated
At Roade Primary School, we follow the Charanga Music Scheme which allows all teachers, including non- specialist teachers, to deliver high quality music lessons, in line with the requirements of the National Curriculum. Pupils are taught systematically and explicitly, in a logical progression, enabling all pupils to acquire the intended knowledge and skills needed for them to reach at least expected levels at the end of Year 6.
Our aims for teaching music are that all children will:
have the opportunity to experience, enjoy and feel able to make some contribution or response to it.
experience a wide variety of musical styles and cultures.
be encouraged to listen attentively to music with an increasingly critical ear.
be encouraged and have the opportunity to participate in and co-operate within a group with regard to singing, writing and creating music.
be encouraged to develop an awareness of rhythm, pitch, dynamics, timbre, tempo, structure and melody through aural training and playing of percussion instruments.
gain increased confidence that encourages participation in musical performance for a variety of purposes and audiences.
be encouraged to share any musical abilities they have, by playing their own instruments as part of the whole-class performance elements of a lesson.
have the opportunity to include music in the wider curriculum.
develop the understanding that music can help our mental well-being and is important across different cultures, religions and social groups.
Implementation
The Charanga Music Scheme is divided into weekly lessons for each term in each year group. There is also a wide variety of additional Topic-based themes which are available for teachers to use to supplement their teaching, or to link with a topic being taught.
We really value and celebrate music at Roade Primary.
We encourage the community to come together to celebrate music and to simply enjoy creating music through the formation of music videos and challenges. This has been especially important over the last couple of years, when our community couldn't physically come together.
We provide opportunities, throughout the year, for the children to perform their singing, dancing and music–making with an audience. The children practise for annual performances at Harvest-time, Christmas, and for our Summer Fair.
Children in Key Stage 2 are given the opportunity to join the school choir. The choir attends local school events and sings carols within the community at Christmas time. All choir members look forward to the annual Young Voices event where they enjoy singing with hundreds of children from other schools around the country.
All children are given the option to learn how to play a musical instrument. We have skilled musicians who come into school to showcase the different types of instrument available to learn at Roade. These include: guitar, violin, clarinet, keyboard and drums.
We are lucky to have a designated Music Studio which is fully equipped with a range of tuned and un-tuned percussion instruments for the children to play and enjoy.
Song-writing is a strength at our school. Children love using their own experiences to write meaningful songs which they then practise and perform after support from an adult. We have a poignant and much- loved school song- 'Shoot for the Moon' which was written a few years ago by a pupil while she was in Year 6. Many of the songs have an anti-bullying theme and are written for the Northants Anti-Bullying Song Writing Competition, run through Notivate each year.
Every year, the pupils in Year 4 take part in a 6 week Notivate program, through which they are supported to write songs, then record them professionally at The Stables in Milton Keynes. This is an amazingly exciting and positive experience for the children and afterwards they are given a CD of all the songs to keep. The CD is played in a whole- school assembly and presented to the children by John Bowman who runs the Notivate program.
Impact
Throughout their time at Roade Primary, children have access to a varied music programme, which allows them to enjoy music, discover areas of strength, and be supported to achieve things they thought were impossible.
Every pupil's progress and attainment is tracked against National Curriculum outcomes using Target Tracker. Performances and end-of-unit Charanga performances are recorded and saved on the Staff Shared drive.
When they leave Year 6, pupils will:
have experienced a wide range of musical styles and genres.
have grown in confidence when singing and performing, playing a range of percussion instruments and dancing to music.
understand the importance of music in our lives and the lives of others from different cultures and religions.
have had the opportunity to learn to play an instrument and will have composed and recorded their own song as part of a group.
be equipped to move on to the next phase in their music education.
be aware how they can use listening to music, singing and dancing as a way of providing joy, relaxation and healing in their everyday lives.