Physical Education
PE is delivered by a Specialist Coaches. Our PE sessions will be both indoor and outdoor on either the field or the Multi Use Games Area (MUGA) for Reception, Key Stage 1 and 2.
They focus on mastering basic movements including running, jumping, throwing and catching, as well as developing balance, agility and co-ordination. Pupils are encouraged to participate in team games and to develop simple tactics for being an effective team member.
Key Stage 2 pupils will also complete lessons inside and outside and may also visit other facilities including the local swimming pool, gymnasium at Elizabeth Woodville Academy and the 3G pitches.
Swimming is introduced to the timetable from Key Stage 2. We ensure wider participation in the community by involvement in interschool sports and tournaments, local authority and regional based competitions. Inclusion is vital to our ethos and specific SEND competitions are set up for our SEND pupils to represent the school.
PE Programmes of Study:
https://www.gov.uk/government/publications/national-curriculum-in-england-physical-education-programmes-of-study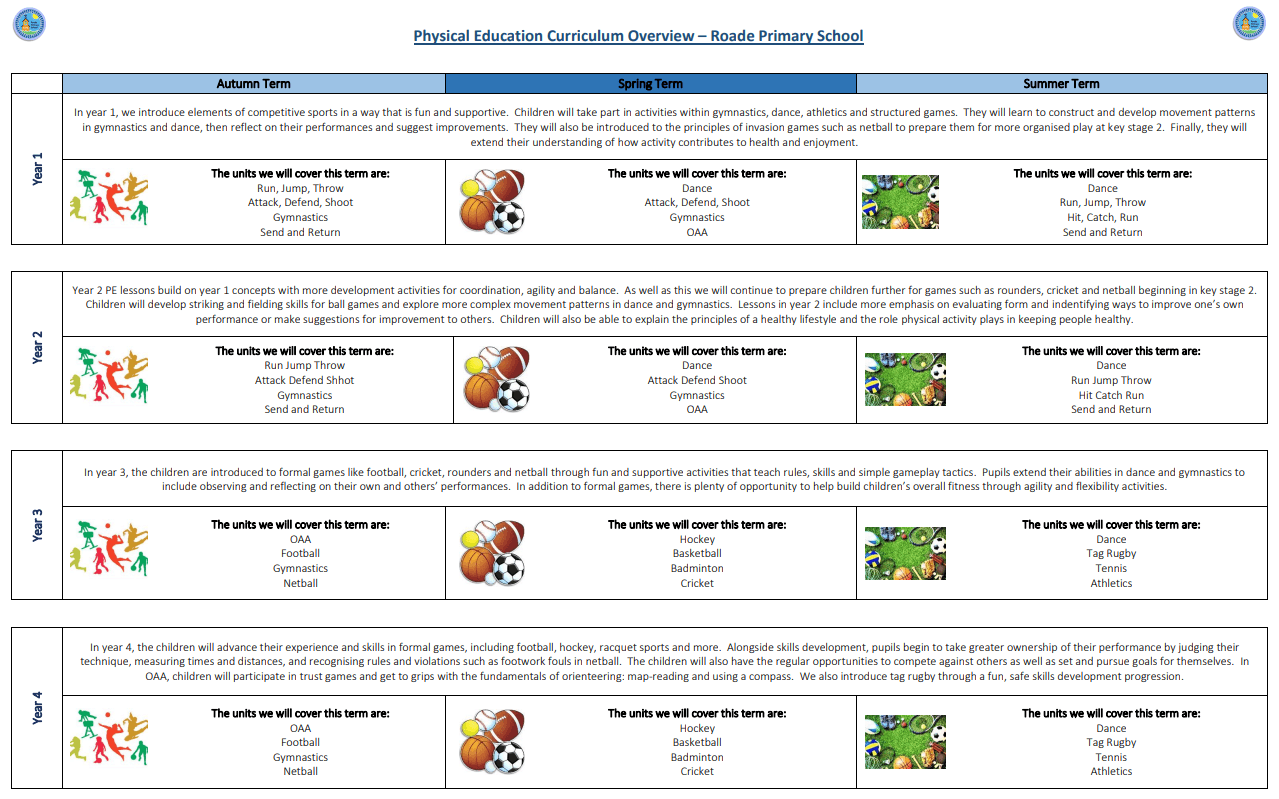 Intent
At Roade Primary School, Physical Education (PE) is an integral part of our curriculum. We strive to create a culture which aims to inspire an active generation, who enjoy PE and encourage each other to try their best. We provide a safe and supportive environment for children to flourish in a range of different physical activities, which is essential in supporting their physical, emotional, social and moral development.
At Roade Primary School, we are committed to providing all children with opportunities to engage fully in PE within school lessons and in the wider community. The aim of our PE programme is to develop children's basic physical skills and abilities, to build their confidence and to encourage a lifelong love of sport, whilst instilling a healthy lifestyle. We offer a varied program of activity, to ensure that all children progress physically through a unique and fully inclusive PE curriculum. Our curriculum aims to improve the well-being and fitness of all children. We aim to deliver high quality teaching and learning opportunities that enable all children to achieve their personal best. All children participate in competitive sport which can be against self and/ or others
Our lessons are delivered by specialist Sports Coaches, who ensure the children are working towards the National Curriculum and Early Years Foundation Stage targets. The lessons are structured to build on previous knowledge and skills and allows the children to practice them in context. We encourage the children to participate in a wide range of sports and activities, whilst encouraging healthy competition and teamwork. At Roade Primary School, we recognise and celebrate children's sporting successes and personal achievements.
Implementation
At Roade Primary School, our PE lessons are delivered by specialist Sports Coaches, who provide high-quality lessons for all children. Our medium-term plan and individual lesson plans, ensure that lessons are sequenced to build on previous learning and skills and that the National Curriculum requirements are met. This structure allows the children to recap on prior learning and encourages a progression of skills. Our PE lessons model technical vocabulary and provide children with opportunities to develop their physical skills and sporting abilities. This is delivered so that subject knowledge and skills is progressive from the Foundation Stage, through to the end of KS2.
Pupils participate in two PE lessons each week, covering two sporting disciplines every half term. In addition, children are encouraged to attend extra-curricular activities and clubs before and after school. We also hold sports taster days, which allow the children to experience a new sport, which they may wish to continue outside of school. Children are also invited to attend competitive sporting events within our school cluster and the local area. This is an inclusive approach which endeavours to encourage not only physical development, but also mental well-being. It also provides opportunities for the less active children to be involved in physical activity.
KS2 children attend swimming lessons for half a term, to ensure they understand water safety and that they can swim by the time they leave primary school. All children across the school participate in healthy school's week, to promote the importance of keeping a healthy lifestyle and to encourage the involvement in sports and activities. Children are also encouraged to stay active at break times and can access a variety of equipment to use for sports and games.
Impact
Our curriculum is designed so that the children are taught a variety of sports and activities throughout their key stage, to create a progression journey for their skills and vocabulary. Children are able to develop fundamental skills and apply them to a variety of sports and activities, whilst giving them opportunities to improve and achieve their personal best. We celebrate sporting achievements awarded both in and out of school during our weekly Celebration Assembly, to promote sports and activities and to celebrate all levels of success. We also award a weekly in class Sports Star of the week and an overall Sports Achievement for the whole term.
We offer children opportunities to participate in competitive sports, to support them with understanding the necessary skills and ethos of individual, team and whole school sportsmanship. We equip our children with the necessary skills, promote teamwork and encourage them to show resilience when tackling a new skill or when facing a challenge. We want our children to learn to take responsibility for their own health, fitness and well-being, to allow them to live a happy and healthy life. We aspire for children to enjoy PE and develop a love of sport and physical activity, which becomes part of their future outside of Primary School. We aim for all Year 6 pupils to leave school with the skills to competently swim and have the ability to self-rescue in the water, which is a key life skill.