Uniform and Appearance
Our school uniform is important to us. It is one way which we identify ourselves as a school community of which we are proud. Children come to school to learn and smartness and high standards of appearance are expected at all times.
All footwear must be completely black, smart and suitable for school.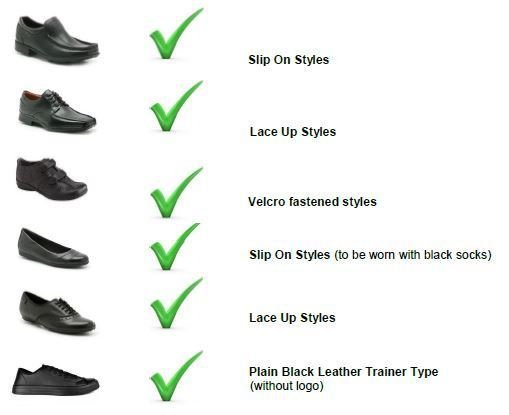 Please click here: Uniform powerpoint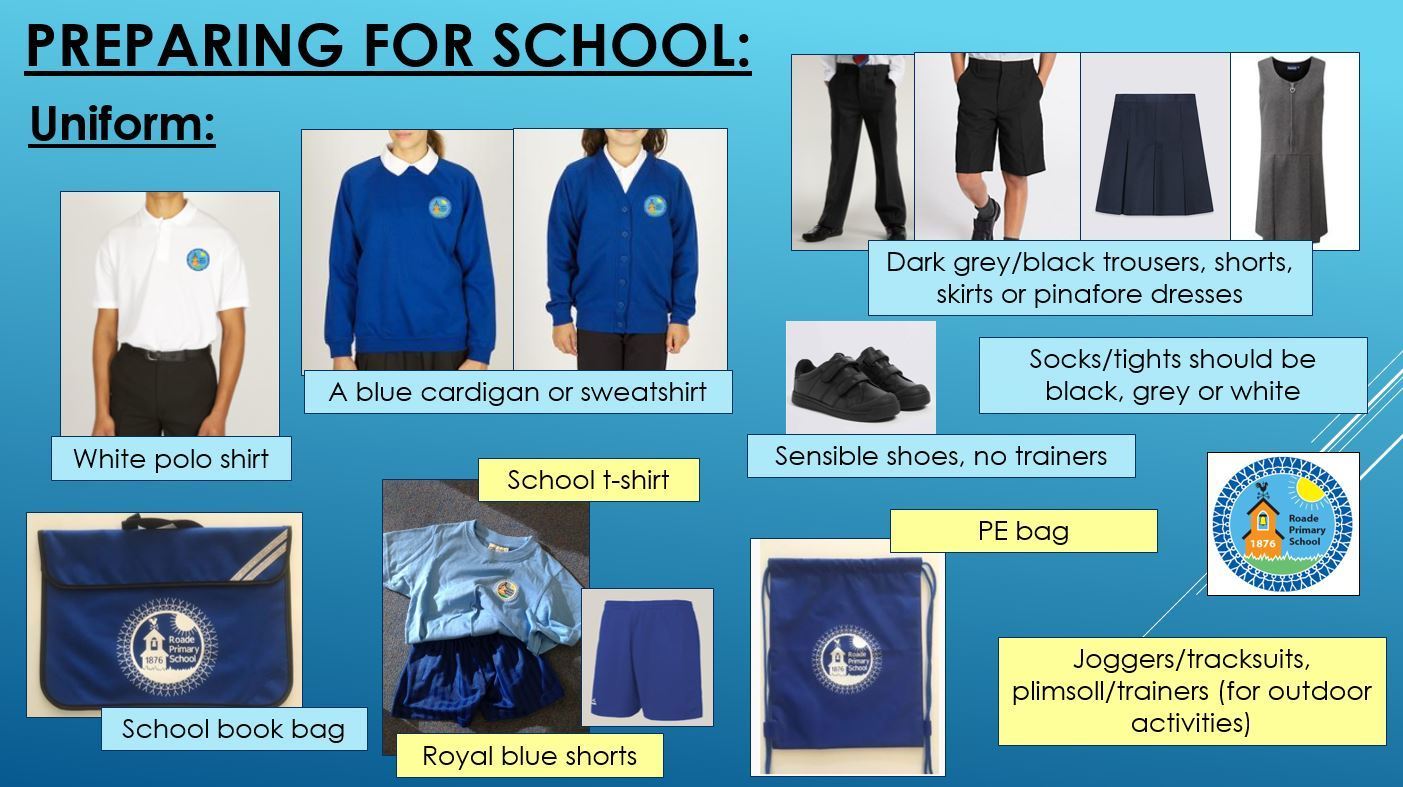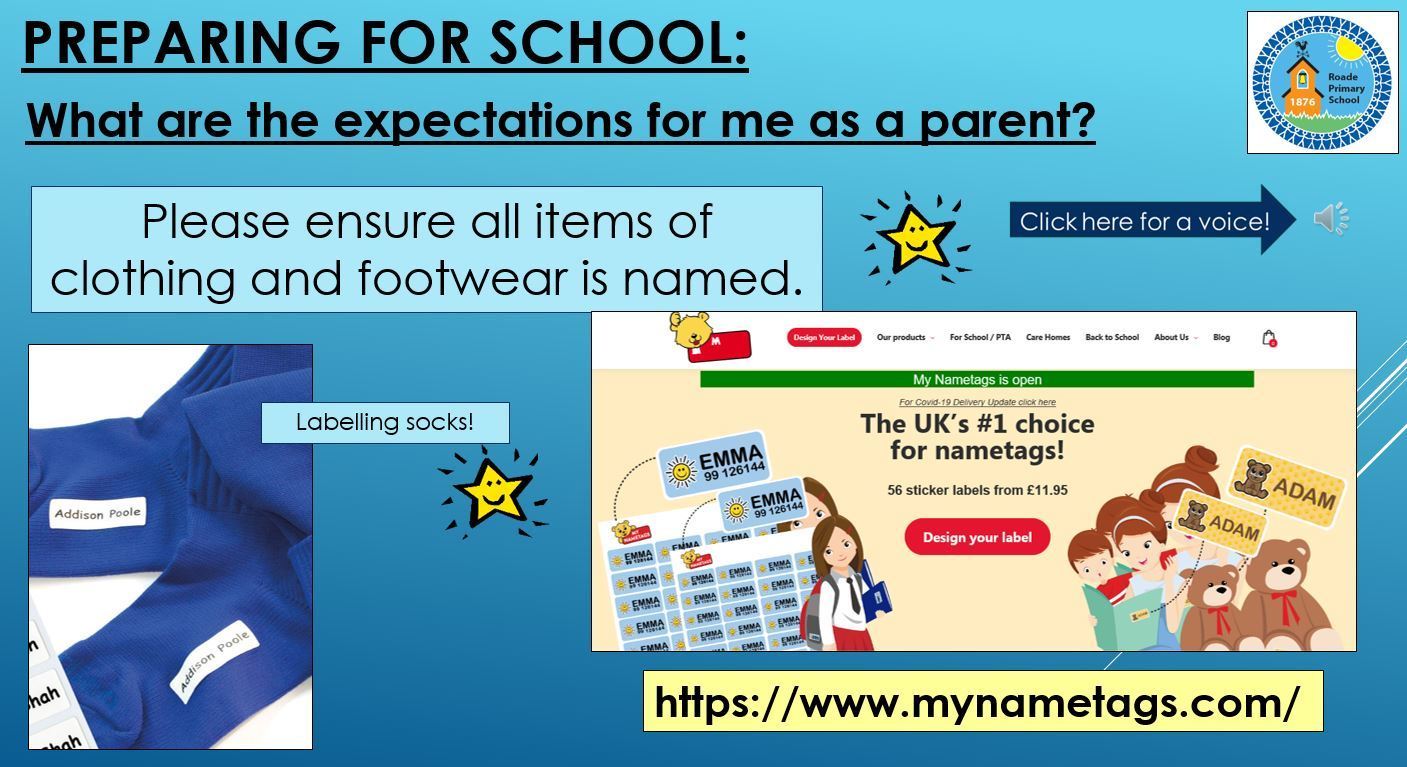 Children wear:
a polo shirt which can be white or pale blue
a school sweatshirt in royal blue. A sweatshirt style cardigan is also available
trousers or skirts should be grey or black (no jeans)
appropriate, sensible, flat-heeled, black school shoes ('fashion' shoes and boots should not be worn; plimsolls are not worn in class)
socks or tights in royal/navy blue, white, black or grey. Long hair should be tied back neatly for both girls and boys. Plain hair bands should be sensible and in keeping with school colours (royal blue, white, black or grey). This is not only for reasons of smartness, appearance and health and safety: children's faces should not be obscured as the teacher may not be able to judge their engagement with learning and to secure their participation in discussions and practical activities.
In year 6 there is the option of a Roade school tie. This is a blue and gold striped traditional tie. This smart addition to the uniform is used to identify the oldest children in the school, used as a symbol of responsibility and acts as a life skill to prepare our children for secondary school and tying ties. Ties can be worn by other year groups when representing the school in official functions such as singing in the choir.
PE Kits are worn all day on PE days
Parents should label all items of clothing clearly with their child's name. We have a substantial lost property box!
Jewellery
For health and safety reasons, no jewellery is permitted in school (with the exception of wrist watches which will be taken off for PE). Make up, nail varnish or hair gel are not permitted. These things are not necessary in children's primary years and we strongly advise that your child has no piercings during their primary education. For children whose parents have allowed piercings, only plain stud earrings are permitted and these must be removed by the child themselves for PE. If a child is unable to do this, then parents must remove studs before the school day, otherwise, for health and safety reasons the child will miss PE.
Where non-compliant jewellery is worn, children will be asked to remove it at the beginning of the school day. A letter, text or e-mail will be sent so that parents are aware.
PE Kit
For health and safety reasons, it is essential that children are dressed appropriately for any physical activity. PE kit is part of our school uniform. Our children have all their PE on one day each week, this was a legacy from the COVID restrictions that was popular with parents and families and the school has maintained for 2021/22. On their PE day, the children need to come ready for indoor adn outdoor activities. This will mean that they will need a tracksuit or similar cothing to enable outdoor physical education-but something that they can remove to perform indoors on the same day.
For indoor PE lessons in the hall:
trainers
plain pale blue or white T-shirt (school T-shirts are available to order)
royal blue shorts
For outdoor PE:
trainers
a plain pale blue T-shirt
a track suit or hooded sweatshirt in royal blue, grey or black without a logo
Jewellery must not be worn in PE. Medical advice confirms that any jewellery worn in physical education lessons is an unnecessary risk and should be avoided at all times. Serious accidents have occurred in schools as a result of contact between pupils wearing earrings or studs and other pupils or equipment where items of jewellery have caught in apparatus and torn the ear lobe.
Stud earrings must be removed by the child themselves for the lesson. Where piercings are still healing within the advised six week period and/or a pupil is unable to remove their earrings, then that pupil will not actively participate in the lesson in line with health and safety guidelines. In line with DfE guidance, the school will not tape over studs as they can easily become unstuck or dislodged. These items represent a potential hazard, not only to the wearer but also to other children.
Physical education is a part of the National Curriculum. If for any reason your child is unable to do PE, parents must send in a written letter giving reasons why.
If children breach the uniform/appearance policy or do not have their full PE kit, a letter, text or email will be sent home. If children repeatedly come to school dressed inappropriately or do not have PE kit in school, a meeting will be arranged with parents.
At Roade, we fully acknowledge our responsibilities in terms of equality issues in relation to gender, age, race, disability, religion or belief. Where jewellery is worn for specific medical, cultural or religious reasons, this will be discussed specifically with parents.
If you have any problems with uniform, please do come and speak to us. Like nearly all other schools, we follow local authority and national guidelines. For further information, see the Department for Education website: http://www.education.gov.uk/search/results?q=uniform