Emotional Literacy Support Assistant
At Roade Primary School we are very lucky-we have an exceptional Emotional Literacy Support Assistant (ELSA).

Mrs Tindall
What is an ELSA?
The ELSA (Emotional Literacy Support Assistant) intervention was originally developed within Southampton, then Hampshire, by Sheila Burton, Educational Psychologist. It was designed to build the capacity of schools to support the emotional needs of their pupils from within their own resources. This is achieved by training teaching assistants to develop and deliver individualised support programmes to meet the emotional needs of children and teenagers in their care. It recognises that children learn better and are happier in school if their emotional needs are also addressed. This intervention is now widely implemented by educational psychologists across Britain.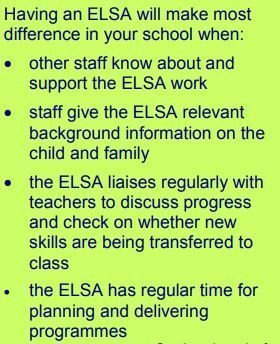 ELSA is an initiative developed and supported by educational psychologists, who apply their professional knowledge of children's social and emotional development to areas of need experienced by pupils. They provide on-going professional supervision to help maintain high quality in the work undertaken by ELSAs, thereby helping to ensure safe practice for ELSAs and pupils alike.
The role title of ELSA may only legitimately be used by people who:
have attended (or are currently attending) a full ELSA training course delivered by one or more fully qualified educational psychologists (courses lasting a minimum of 5 but more usually 6 days)
regularly attend half-termly supervision in small groups (with a recommended maximum of 8 ELSAs per group and duration of 2 hours per session), led by a qualified educational psychologist
are currently delivering bespoke programmes of support to individual pupils and sometimes small groups
Mrs Tindall works with identified children to give support and advice across the school to children of all ages. It helps to share emotions, fears and worries. To build confidence and resilience and with settling children into school. Their work is invisible but incredible. It makes a difference.