What Roade English Hub is doing....
Why Roade?
Roade Primary has a track record of high standards in Phonics and early reading. Although our standards of phonics and reading at KS1 are high-this is not just the outcomes for students. We have a whole school commitment to the development of early reading and we embrace the challenge of maintaining a love of reading and a passion for the development of reading into KS2-supporting our children to be secondary ready and to be fluent and excited readers.
We were recognised by the LA and recognised by the DfE and we were asked to consider an application to be an English Hub school.
Dear Roade
Thank you for inviting me to your first phonics open morning. The schools who attended really enjoyed it. Your overview was really clear and informative, and gave a great insight to phonics teaching, and reading in general at Roade.
I was really impressed with the morning. I went round all the groups, from group 1, to Literacy and Language, and it was wonderful to see the progression. The look on some of the children's faces when they were using magnetic letters, and becoming little blenders, was so heartening.
With all the sessions, children were engaged, the teaching was passionate and inspiring, and delivered so well. I watched two year one boys reading using their teaching sticks, and discussing what was going on in the story, demonstrating their comprehension of the text.
We watched a year one teacher model a sentence for dictation, and the children responding by writing it down. The quality of the writing was superb, and again, the engagement of the children was wonderful to watch.
It is absolutely evident how committed and passionate you all are at Roade. Thanks again to you, Mark, and all your lovely staff who were left unfazed when visitors turned up during their lesson.
Best wishes
Maggie
Maggie Mcharg
Primary Educational Consultant
Oxford University Press
What do we do well?
The school uses Read Write Inc as its synthetic phonics scheme. Regardless of which scheme a school selects –it is the rigour and the consistency that is in place that ultimately sees it as successful. What scheme works in one school may not work in another-for Roade, Read Write Inc is the bedrock upon which all reading and future learning is based.
We have critical leaders for reading and literacy across the school.
Our Assistant Head Teacher is our 'Reading Lead' and KS1 lead.
The reading lead's role is to:
(a) To co-ordinate and manage the arrangements for Read Write Inc. across the school.
(b) To provide model lessons for RWI and cover as is necessary
(c) To conduct and supervise the completion of pre and post assessments for children
(d) To co-ordinate and manage the training of staff in Read Write Inc.
(e) To manage and lead the assessment of all Read Write Inc. children
(f) To liaise with the headteacher and Literacy Co-ordinator regularly regarding Read Write Inc. and Literacy lessons
(g) To provide coaching and mentoring for staff
(h) To attend Read, Write, Inc training as necessary
We have the added bonus that at Roade the Reading Lead is also the SENCo and this enables some very tight management of the additional requirements some of our students may require. In addition the Reading Lead will:
(a) Co-ordinate school-wide reading intervention and literacy programs in Foundation Stage,
Key Stage 1 and Key Stage 2 where needed
(b) Lead regularly scheduled staff INSET regarding reading instruction and early literacy skills
(c) Assess and screen children's reading needs and appropriate intervention strategies
(d) Work with staff and parents to facilitate parent and child interactive literacy activities
(e) Consult with parents and teachers to recommend at-home strategies to improve reading skills
(f) Monitor assessments to determine student reading levels and advise relevant intervention strategies
(g) Ensure one to one interventions for students who are having reading difficulties are having the desired impact.
(h) Work as part of the Senior Leadership Team to ensure that phonics and early reading development is given a high priority across the school.
Literacy Co-ordinator. This is crucial for the whole school development of literacy and we have found great benefits in separating the two aspects of 'Reading Lead' and 'Literacy Co-ordinator' in making an enormous job more manageable.
On top of the usual Literacy Co-ordinator job description this role includes:
(a) To ensure children are provided with high quality and engaging reading areas in class and throughout the school
(b) To register and liaise with the local library service to borrow books and to keep abreast of local initiatives in the library service
(c) To encourage pupils to enjoy reading
(d) To invite local authors to visit the school to discuss their writing and publications with pupils
(e) To promote a love of learning through book days, book weeks and other initiatives
(f) To lead Literacy across all phases and to be an advocate for literacy across the school.
(g) To lead and manage the school in the highest professional standards of Literacy
(h) To review school policies and codes of practice
(i) To implement and deliver an appropriately broad, balanced, relevant and differentiated curriculum for all learners
(j) To facilitate and encourage learning experiences in Literacy across the school which provide learners with the opportunity to achieve their potential and to contribute to raising standards of attainment.
Both roles are pivotal to the development of literacy, phonics and early reading and it is crucial that they are given the time in their timetables to achieve the given roles. It is vital that they work together and sing from the same hymn sheet. Both roles are an important part of our school Senior Leadership Team and have impact across the school.
Hub schools were chosen through a competitive process - all 32 have a background of excellent phonics teaching and are distributed to benefit the areas that need it most. Northants is seen as an area that needs support and development. Roade has a track record of supporting other settings through Leading Senco work, National Leader of Education Work, Reading Lead work and Leading on LA initiatives in Phonics and Reading. With this background and our commitment to support the area as much as we can we were very proud to be given our designation as an English Hub School.
Each hub will identify specialist literacy teachers who will get additional training to act as experts in teaching in early language and reading from reception year to Key Stage 1.
We are very fortunate that behind this leadership structure sits many very capable Literacy specialists that are more than able to deliver phonics and early literacy to a very high standard across EYFS and KS1. We have taken our time to develop our specialists from both the teaching staff and the support staff. Phonics is delivered effectively in small groups by trained and skilled practitioners to a high standard.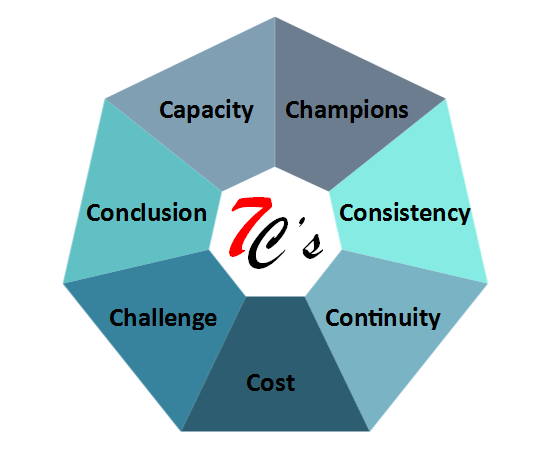 When developing phonics teaching and early literacy it is vital to consider the following 7 C's!
Capacity of the staff and if you need further training and support in your chosen scheme-is everyone at the right standard to deliver what is required? Have you got the right management structure around the scheme to make it work and to hold others to account for outcomes and pace.
Consistency of the scheme. Is the scheme being delivered as it should be-or as it is needed to be to achieve the standards that it should? Do you have adequate monitoring in place to ensure that all groups are equally challenging and focused on the highest standards of delivery?
Continuity of literacy in your school. Does your school's commitment to phonics and early reading end at the phonics screening or is there are continuity throughout the school from these early decoding days to the fluency and passion needed in KS2?
Challenge Is your scheme challenging your children and making them work hard, practice their phonemes and graphemes and become better readers?
Cost of your scheme. Can you afford the scheme and implement it (along with training of staff) so that it is completely effective for the children in your care-try not to do things in half measures.
Champions-does your school have the right level of staff enthusiasm for reading? It needs to be a focus and staff need to be an advocate for reading-everyone needs to be a reading champion.
Conclusion-does your scheme and the way that your school delivers that scheme impact on the outcomes (both soft and hard indicators) developing both reading enthusiasm and standards