What Roade English Hub offers....
Roade English Hub will seek to support and help develop phonics and early reading in other settings.
We will deliver support as outlined in the diagram below from the Autumn term of 2018, with the exception of the 6 day package of school-to-school support, which will be offered from September 2019.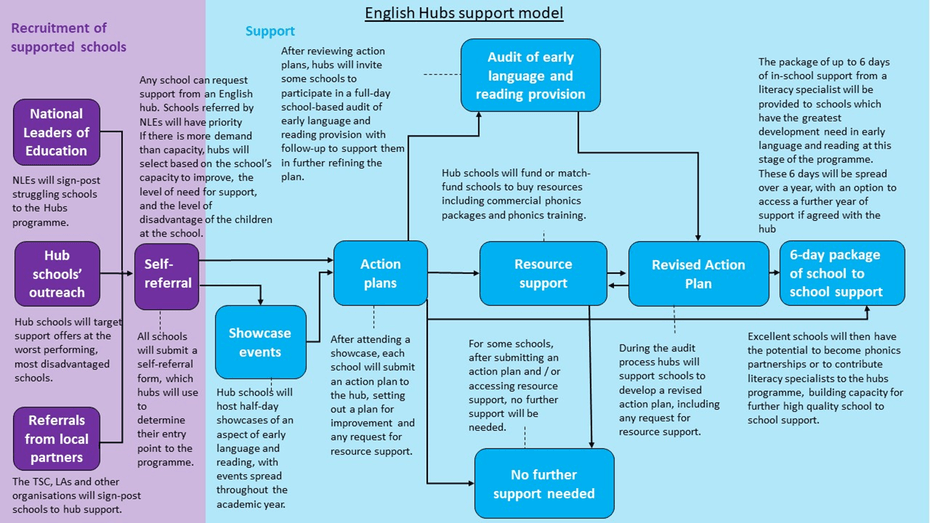 Support in 2018-19 will include:
Providing showcase events for up to 170 participants from up to 85 schools.
Assessing and offering feedback on the action plans of 85 schools, including assessing requests for resources.
Providing a full audit using the audit framework provided by the Department to at least 15 schools and up to 40 schools. Funding per audit allows for three days of hub teacher time for each audit, including preparation, a full day in the supported school, and time to return to the school for follow-up.
Offering financial support to up to 85 schools to buy resources. There will be a presumption that these resources are match funded by schools (with a cap of £3,000 per school). However, if schools meet two of the following criteria the hub will have discretion to offer outright funding at a cap of £6,000 per school:
Phonics Screening Check score below the national average;
Ofsted Requires Improvement or Inadequate;
above average numbers of pupils eligible for the Pupil Premium; and/or
the school is in an Opportunity Area
All support offered by the English Hub will promote the Department's three priority areas:
Early language development: providing evidence-based approaches to early language development and closing the word gap in school-based early years settings, including appropriate use of formative assessment;
Age-appropriate phonics provision: encouraging best practice in systematic synthetic phonics teaching from school-based early year's provision to the end of Key Stage 1, and as the primary reading strategy throughout the school.
This includes
Encouraging fidelity to a single systematic synthetic phonics programe;
Supporting the effective use of decodable books in the early stages of learning to read, as a way of establishing phonic decoding;
Supporting effective practice in formative assessment in relation to phonics/early reading.
Promoting a love of reading: encouraging reading for enjoyment including by supporting whole school reading approaches, reading to children at least once a day and encouraging reading at home, developing teachers' knowledge of appropriate children's literature.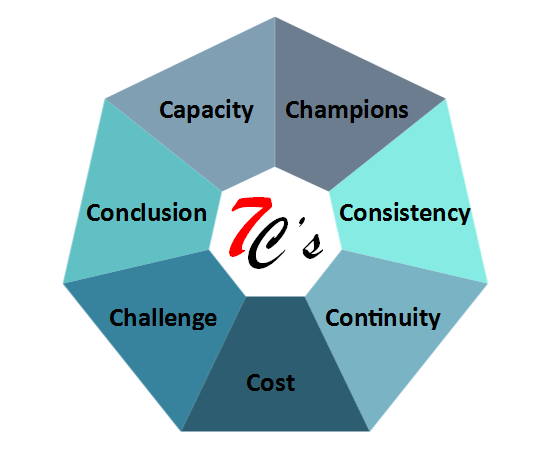 When developing phonics teaching and early literacy it is vital to consider the following 7 C's!
Capacity of the staff and if you need further training and support in your chosen scheme-is everyone at the right standard to deliver what is required? Have you got the right management structure around the scheme to make it work and to hold others to account for outcomes and pace.
Champions-does your school have the right level of staff enthusiasm for reading? It needs to be a focus and staff need to be an advocate for reading-everyone needs to be a reading champion.
Consistency of the scheme. Is the scheme being delivered as it should be-or as it is needed to be to achieve the standards that it should? Do you have adequate monitoring in place to ensure that all groups are equally challenging and focused on the highest standards of delivery?
Continuity of literacy in your school. Does your school's commitment to phonics and early reading end at the phonics screening or is there are continuity throughout the school from these early decoding days to the fluency and passion needed in KS2?
Challenge Is your scheme challenging your children and making them work hard, practice their phonemes and graphemes and become better readers?
Cost of your scheme. Can you afford the scheme and implement it (along with training of staff) so that it is completely effective for the children in your care-try not to do things in half measures.
Conclusion-does your scheme and the way that your school delivers that scheme impact on the outcomes (both soft and hard indicators) developing both reading enthusiasm and standards