Policies and Statutory Information
Here are the documents that have to be displayed on our website as statutory information. These documents are in order, taken from the DfE guidance.
Contact Details

:
Roade Primary School
Hartwell Road
Roade
Northants
NN7 2 NT
tel: 01604 862309
Queries and questions should be directed to the office staff, Mrs Evans or Mrs Anthony- email admin: admin@roade-pri.northants.sch.uk
The head teacher contact for Mrs Owens is head@roade-pri.northants-ecl.gov.uk
Admission Arrangements

:
Our admissions are managed via the local authority, West Northants Council. Parents can find out all about our admissions arrangements through contacting the local authority. Here is the link to the admissions team:
We do not hold waiting lists here at school. Due to our expansion from single to two form entry in each year group, from September 2017 we will be operating some mixed classes which keeps class sizes low, the ratio of adult to children high and enables spaces throughout the school. All spaces are allocated via the WNC team.
OFSTED Report

:
Here is the published report from our most recent OFSTED visit: Ofsted report 2018.pdf
Results

:
We are asked to publish the most up to date information on how our children have achieved and progressed across KS2-this can be seen in this drop down menu under "latest data".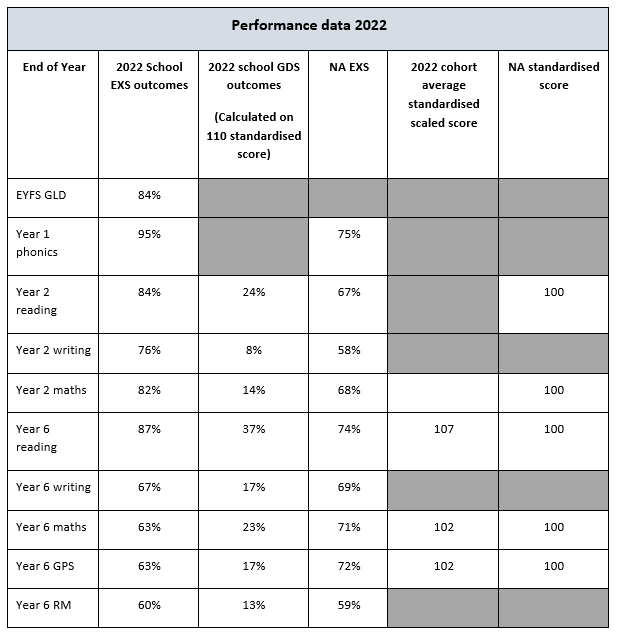 Curriculum:
We are asked to publish the content of Roade's school curriculum for each year. This is done through the curriculum tab on the drop down menu above or by following this link: Curriculum 22
We have a brand new curriculum for 2022. Based upon the Cornerstones curriculum you will be able to navigate around the whole of the curriculum-each age group or year. You can see what each class/year group is learning.
Here is the link to the Curriculum Policy and Learning and Teaching Policy 2022 .
Behaviour Policy

:
Here is Roade Primary School's behaviour policy. Behaviour Policy 2022
We are a school. We aim to develop young learners and leaders in all aspects and personalities. They need to develop skills across the board not only academic progress, but also a range of practical and life skills including relationships. Children learn through practice and guidance. They will get things wrong and they will be encouraged to learn from their mistakes-as we have. We are all role models for our children.
School Complaints Procedure

:
We work very hard to get things right. If we make a mistake we would like to know about it so that we can learn to be better. In the first instance please make an appointment to speak to the appropriate person and discuss your concern. Appointments can be made through the office-email admin: admin@roade-pri.northants.sch.uk or call 01604 862309. Use the staff list to select the best person to speak to! If however you feel the need to take the issue further you may wish to speak directly to the Governing Body or to use the Complaints Policy 2022 Things work best when there is good communication and excellent relationships. The contact email for the clerk to the governors is: Teresa Elkin teresaelkingovernorservices@gmail.com
Pupil Premium

:
The Pupil Premium funding is provided for eligible pupils to support all aspects of school life and learning. There is a drop down section to this menu with latest statement, the latest academic progress information and how the funds have been spent to best support the children entitled to the disadvantaged subsidy.
PE Sports Premium:
In April 2013 the Government announced new funding of 150 million for Physical Education (PE) and Sport often referred to as a Sport Premium. This funding is to be used to improve the quality and breadth of PE and Sport provision.
When asked about the 'Sport Premium' at its launch, Lord Coe reflected: When I stood up in Singapore in 2005, I spoke of London's vision to connect young people with the inspirational power of the Games so they are inspired to choose sport. By focussing on primary schools, we have the opportunity to use sport and physical activity to shape the daily lives of young people. I know from my own experience what an impact teachers and their engagement can have on the lives of young people. (Lord Coe)
Current Provision
We are proud of the current PE curriculum provision at our school and of the wealth of extra-curricular opportunities that we provide for our pupils. Sporting Clubs include; Dance, Football, Tag Rugby and Basketball. We also run a Young Leaders program for our older pupils who lead some sessions at playtimes and lunchtimes for our younger students
Inter-school competitions also feature in our school sporting calender including Football, Tag Rugby, Netball and Cross Country as well as our yearly Sports Day. In addition to this we attend all the cluster sports competitions through collaboration with Elizabeth Woodville Secondary school in Roade. Our school sports teams have regular fixtures with other local primary schools.
Our funding has enabled us to support swimming across KS2 and provide top up swimming sessions leading to the vast majority of our children leaving as swimmers at the end of their year 6. It has supported our purchase of a school minibus that supports all aspects of the curriculum, but enables us to attend most county fixtures. We are close partners with the Northampton Saints and the Northants Steelbacks and funding is used to support learning through the Saints Study Centre for targeted children and for very special reward days.
The last two years have seen a series of sporting successes culminating in Roade being crowned as football county champions and representing Northamptonshire in the Danone ESFA cup- reaching the all England semi final in 2016 in Nottingham.
Moving forward, the funding is to be used increasingly to maintain our extra curricular excellence and develop whole school Physical Education with increased staff training in Real PE as we expand and take on new members of staff to help take our sport on further.
SEN information:
The following is the inclusion statement from our Inclusion Policy. The policy is attached as a hyper link.
We endeavour to achieve maximum inclusion of all children (including vulnerable learners) whilst meeting their individual needs.
Teachers provide differentiated learning opportunities for all the children within the school and provide materials appropriates to children's interests and abilities. This ensures that children have a full access to the school curriculum.
Special Educational Need might be an explanation for delayed or slower progress but is not an excuse, and we make every effort to narrow the gap in attainment between vulnerable groups of learners and others.
English as an Additional Language (EAL) is not considered a Special Education Need. Differentiated work and individual learning opportunities are provided for children who are learning EAL as part of our provision for vulnerable learners.
We focus on individual progress as the main indicator of success.
We strive to make a clear distinction between "underachievement" – often caused by a poor early experience of learning - and special educational needs.
Some pupils in our school may be underachieving but will not necessarily have a special educational need. It is our responsibility to spot this quickly and ensure that appropriate interventions are put in place to help these pupils catch up.
Other pupils will genuinely have special educational needs and this may lead to lower-attainment (though not necessarily to under-achievement). It is our responsibility to ensure that pupils with special educational needs have the maximum opportunity to attain and make progress in line with their peers. Accurate assessment of need and carefully planned programmes, which address the root causes of any learning difficulty, are essential ingredients of success for these pupils. These will be provided, initially, through additional support funded from the devolved schools budget.
Governors Information:
We have a whole section of our website dedicated to our hard working governors-please use the governors button above or follow this link: Roade Primary School Governors
Ethos, Aims, and Values

:
Ethos:
'A supportive community developing confidence, independence and a love of learning.'
Aims:
At Roade Primary School we aim:
To provide a happy, safe and caring place to learn

To promote excellence, enabling all children to achieve their potential

To provide our pupils with rich, diverse and enjoyable learning experiences

To promote and foster self-esteem, motivation and a lifelong love of learning

To encourage the children to become responsible citizens and to have respect for all

To work in close partnership with parents, carers and the wider community for the benefit of our children
Play your part: We expect all members of the school community to:
Respect others regardless of race, creed or gender
Act considerately towards others
Develop pride in themselves, their appearance, their work and their school
Respect the rights of others and other people's property
Respect each other as individuals but reject anti-social behaviour
Take personal responsibility for their actions
Listen to each other
Help and care for one another
Be honest, truthful and trustworthy
Paper Requests:
We know that schools have a lot of information and there is lots to share with you. If you would like a paper copy of any of our documentation this is available on request.