Parent Survey/Feedback
Roade Primary School
Parent Questionnaire 2022
Thank you for your continued support of the school. Together, as always we will try to be the very best we can be for our children and provide the highest quality curriculum, challenging and exciting.
We are all immensely proud of our children and our school, but we need to know what you think! Please take a few short minutes to fill in the questionnaire below. It will help us plan for the future and it will help our self-evaluation and plans for the future. Remember to put both positive and negative points and be honest. As always, if you have any issues you would like to discuss, come and see a member of staff or a governor.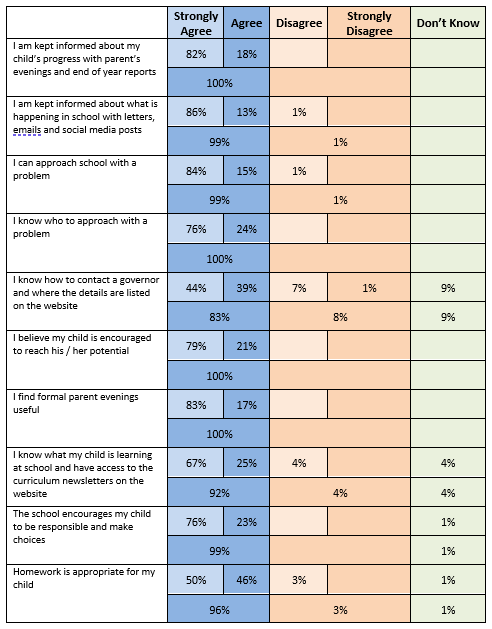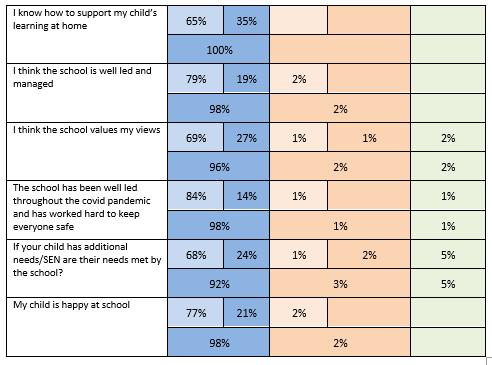 In your opinion, what are the strengths of the school? What should we leave alone?
Communication is great
Approachable
Flexibility
Transparency
The children being safe
We do not mix reception year 1/2 with older children
Communication
Care about the students
Good values
Openness of staff
Levels of communication on parent mail
Community feel
Happy environment
Approachable leadership team
Community spirit
Children first
Values
Teaching
Leadership
Festivals and social/fundraising events
Children first
Communication
Homework
Teachers are wonderful, caring and dedicated
Relationships are excellent
Appointment of staff
Some fabulous teachers (Mr Wilson and Mrs Collison)
The community feel and values
Very approachable
Very much an open door policy
Amazing teachers who give their all
Give the children lots of support and opportunities
Leadership
Communication with parents
Going above and beyond during covid
Everyone is very friendly
Values of school
Very approachable
Keeping parents informed
Strong leadership, empathy, don't change a thing!
Encouraging
Approachable
Supportive
Caring for each child individually
Staggered collection times
School dog
Supporting each child's individual needs-amazing!
Very good teachers and leadership
Good communication
Friendly atmosphere
Communication, visibility of staff so it is easy to talk to teachers/SLT if needed
Safeguarding
Friendliness
Productions
Strong focus on maths and english
Great structure
Extras-world book day, children in need, jubilee tree planting
How happy all the children are and love to learn!
Encouragement with reading and making part of everyday life
It's identity
Communication
Standard of teaching
Friendly approachable staff
My daughter really enjoys it
Family like
Good communication
Focus on development
Great year 1 teacher
Kept informed of any updates
Very good at knowing what the children's needs are
Good extracurricular activities trips and shows etc.
Teachers
Community spirit
Fun
Great communication
Inclusiveness
Positive vibes
No bullies
Communication is amazing
Greeting the children as they enter
Classrooms are lovely
The community spirit
Communication
Support
Opportunities trips sport
Trust
Thera-play arranged through the school
ELSA
Feel the children come first
Very approachable
Friendly strong morals
Communication
Lunch is good
Teacher's feedback is positive and helpful
Focus on books and reading
Fun events like the plays for kids
Fantastic communication
Positive vibes
Fantastic staff
Head teacher is amazing and leads by example
Teachers amazing
Communication is amazing, face to face, social media-everything
Excellent selection of PE games
Greeting the children before they enter the classroom
I think you are a great school, and I am super happy that my daughter started her learning journey in Roade Primary School
You are great the way you are
Very welcoming and transparent
Communication is great
Making my child happy
Lovely staff
Good leadership
Support for the children
Reading programme
Very supportive community
Having a dog
Quality of reception
Helpful staff in the office
Team approach
Celebration of achievements
Visibility of the leadership team
The staff are approachable and always helpful
Kids are happy and feel encouraged
Transparent
Passionate
Focused on children's growth
Communication
Expectations of pupils
Communication
Support
In your opinion, what could we do better, what do we need to change?
Cooking
More varied clubs
More varied hot dinners-and dinners that are hot!
Communication sometimes lacks
Would be better if we could see more of what the children are up to in school
Fewer parent mails that are not relevant
More opportunities for cross curricular writing
Curriculum information and strategies taught
Breakfast club
School trips and visits
Sometimes wish they could push children a bit harder if they are doing ok
More sporting opportunities
Rewards system
Communication via social media
Parent communications are too long and rambling
Outside school lining up before gates opening can be dangerous
Don't change, my child is learning well
In my opinion there is nothing I would like you to change-it is absolutely amazing what you are doing already!
I truly don't think you could improve on anything. It's a fantastic school.
Set homework that children can do themselves without supervision.
Keep parents updated about what kids learn at school
Change kids reading books more frequently
Push kids harder
The school gates opening in the morning. Queuing is dangerous
I couldn't ask for a better school for my children
Give more homework to year 4
Can't think of anything!
I looked for the curriculum newsletters and couldn't find them
Keep doing what you are doing!
keep the updates on the FORPs page or a monthly newsletter so that we know what bits and pieces the kids are getting up to, KS1 school football team
More than one book change a week
Can't think of anything
Nothing
I am struggling to come up with anything
Communicate better with parents and calls when parents contact
Improve the meals at school (hot lunch)
Learning a new language
Breakfast club would be wonderful
More racial awareness especially important in a majority white British school
Sometimes the volume of parent mail messages can be overwhelming
Feedback more frequently throughout the year
Emotional support
SEN needs a lot more focus
PE more
More use of the school library
Preparing the year 5/6 children for the huge secondary school transition
Parents attending assembly again
Better/new reading books for year 1 and reception
Supervise the children using sharp scissors more
Variety of teachers per class, if a child struggles with 1 teacher, perhaps they would do better with another
What would you like to see more of?
More of the same, we are really happy with the school
Art and design
Arts drama and singing
Photos
The weekly roundup during covid was really helpful-we would like them back-felt more included and knowledgeable about what was happening in school
More certificates
Adventurous trips/days out
Parent courses either educational or behavioural
Communication for older children
Change reading books more regularly after 4 nights of the same one-it gets dull. Maybe a change over day on the Wednesday not the Thursday?
Trips and visits now that constrictions are lifted
More Courteenhall please!
Out of the classroom trips around the village for the younger pupils
More activities after school
Outside visits (cultural enrichment)
Visits to churches and other religious buildings
The school goes to great lengths to make the children valued and I like this
Nothing all good!
Some kind of reference of the day so that we can revise with the children at home
Loving the face-to-face parent's evenings again.
More events for parents to come into school, so they can see how great the school and its staff are!
A review each term
Small trips
Day visits
To know more about the topics/projects that you are working on
Pictures and activities
Parents attending events to see what our children are learning/doing etc. Although we understand covid put a stop to many events, it would be lovely to have them back again.
Easier/more accessible updates on how to support child/extend enhance the learning
Face to face
Sports clubs
Outings
No concerns
Parents could sit in the classes observing the kids to study
School trips (would love to see this option soon)
Keep friendship groups when creating new year class groups
Personalised emails about children behaviour, learning progress etc
Extra-curricular
Wrap around care
Extracurricular stuff
School trips now safe
Swimming for every year
What my children is doing
Child's progress
More new books
Monitoring for struggling children
Time spent out of the classroom
School team sports
Practical lessons
What would make your role as a parent at Roade easier?
More communication
Showing us more of what is happening at school
Healthy snacks rather than fruit and veg
No added sugar squash
If the day started 5 minutes later
Breakfast club provision on site
Single pick up and drop off
Getting involved
If I knew when, where and how to help my child
I think the homework tasks sometimes are difficult. They take a lot of time and it is hard to keep on top of it.
Open the gates earlier at pick up and drop off times as people are queuing down the street
Help kids learn
Communication with teachers to find the problem with kids
Some form of online portfolio for homework, easy to share between the parents and keep track of
No concerns
Homework tasks are sometimes hard to keep on top of, they are very detailed and time consuming
Calendar of events (as sometimes lost track!)
Nothing, I already feel at ease
Take away some of the pressure of fitting in daily reading, TTRS, spelling, homework. We understand that its necessary, but hard when the child has been learning all day and has after school clubs and commitments
No staggered drop off and pick up time
No more staggered starts
List of what the children should be achieving/or where they need to be so can work on bits at home to help bring them on.
Nothing-all good
To be involved in their activities (probably now it will be easier)
Breakfast club
Being informed of incidents more readily eg toileting mishaps or accidents (have you heard of marvellous me app?)
Homework that only involves me facilitating the learning and not actually doing it. This has improved recently.
Gates open on time
Better meals provided
That the staggered start times cease
More sleep
Less work
Homework club
I am happy as my children are happy at school. They made friends and are learning well.
Trips for the children
Appropriate before and after school clubs every day
Mid year gradings/are they on track reports
Homework designated for the individual child
Feedback from parent's evenings in writing
Nothing that we can think of currently
Is there anything else you would like to tell us?
Keep going-good job
Keep up the amazing work the school offers
Your staff are all extremely approachable and friendly. You are doing a great job
Thank you