Religious Education
We follow the Agreed Syllabus for Religious Education (SACRE) produced by The Educational Framework for Religious Education in Northamptonshire.
Religious Education (RE) is taught to all children except those whose parents have requested their children are removed from these lessons.
Our teaching promotes the spiritual, moral, social and cultural development of our pupils. It reflects the fact that the religious traditions in Great Britain are in the main Christian whilst taking account of the teaching and practices of other principal religions represented in Great Britain. Our teaching enables pupils to acquire knowledge and understanding of religious beliefs, attitudes, practices and rituals. They will also develop their own beliefs and values. We will not convert or steer pupils towards a particular religious belief. They will also be aware that some people have no attachment to religious beliefs and follow secular philosophies.
Religious Education DfE Guidance
https://www.gov.uk/government/publications/religious-education-guidance-in-english-schools-non-statutory-guidance-2010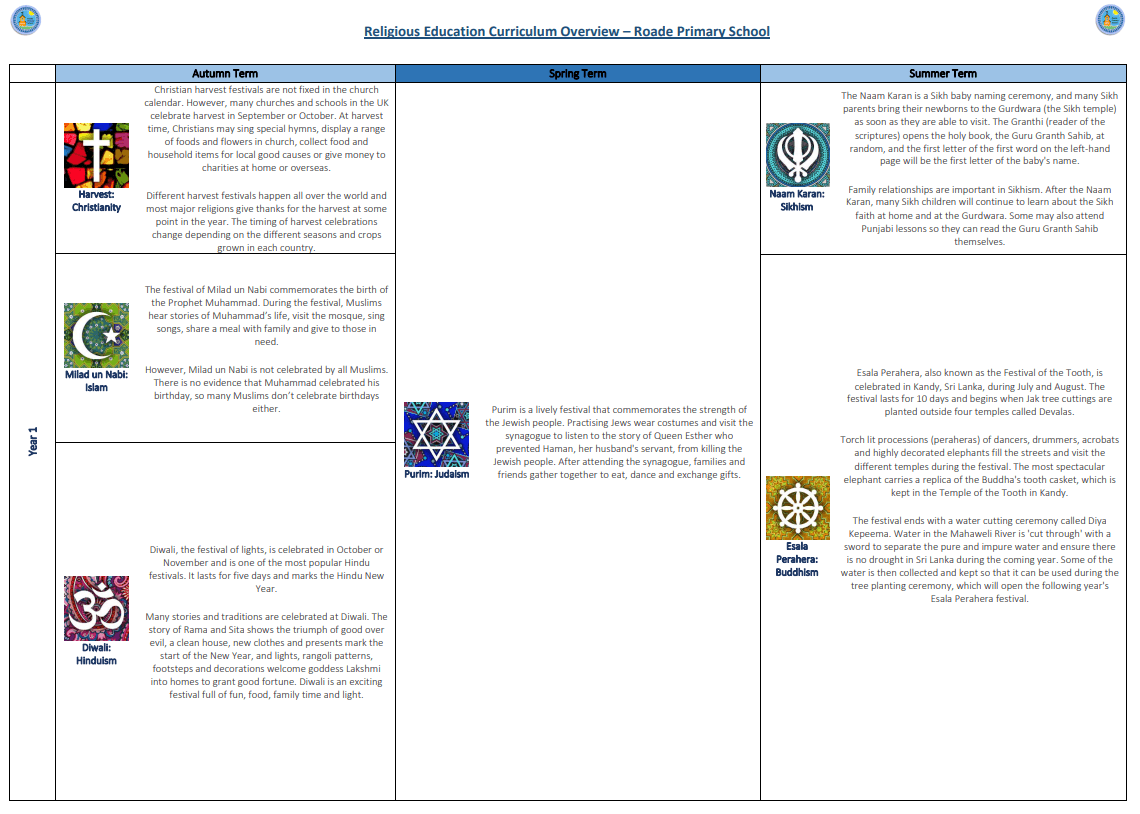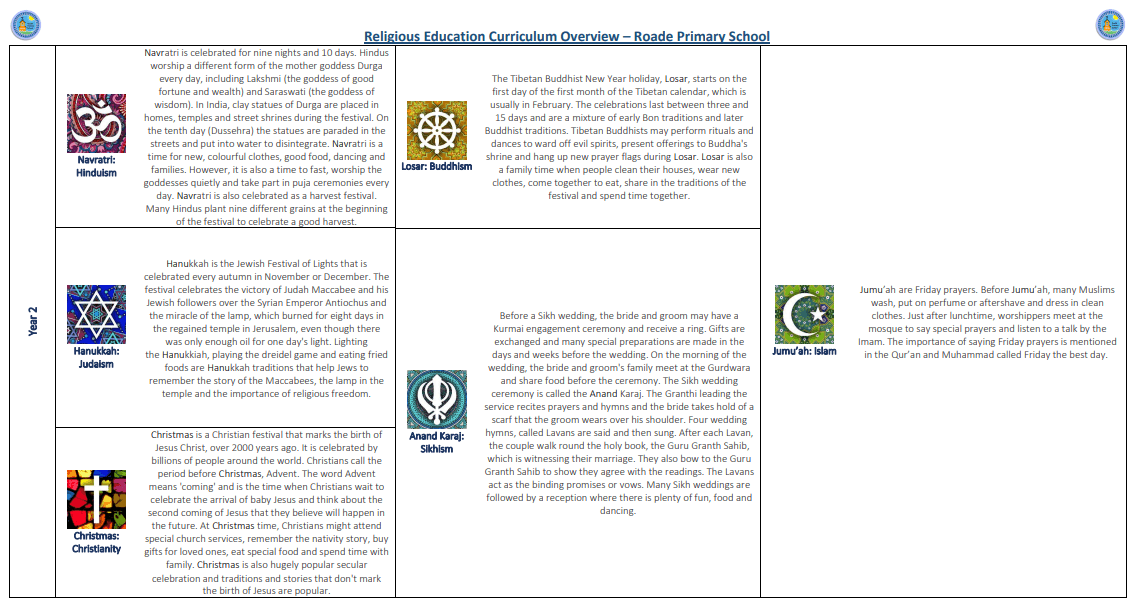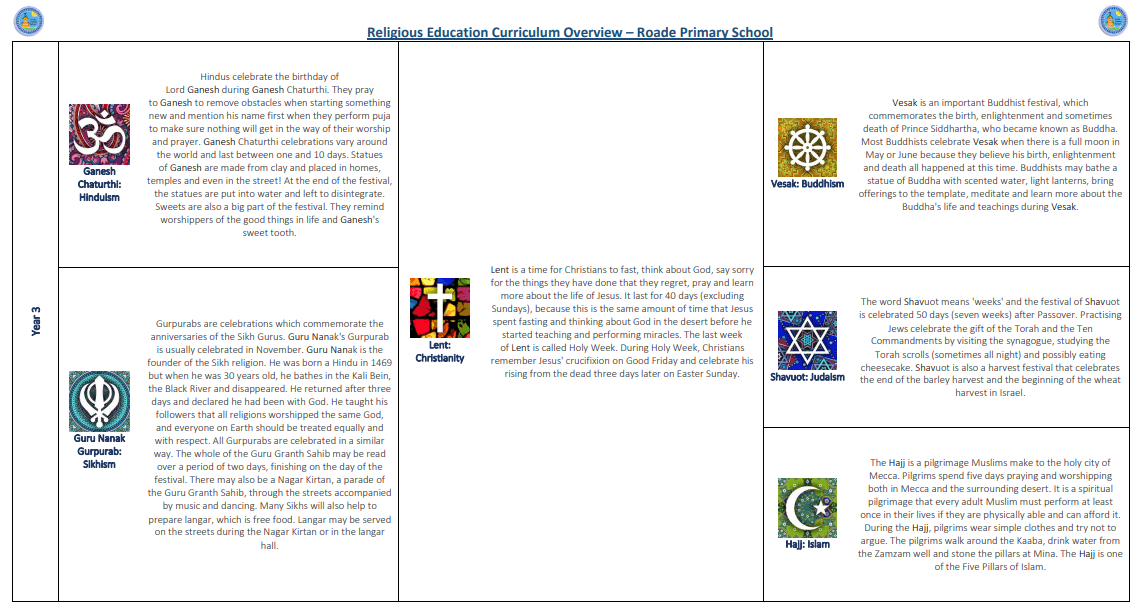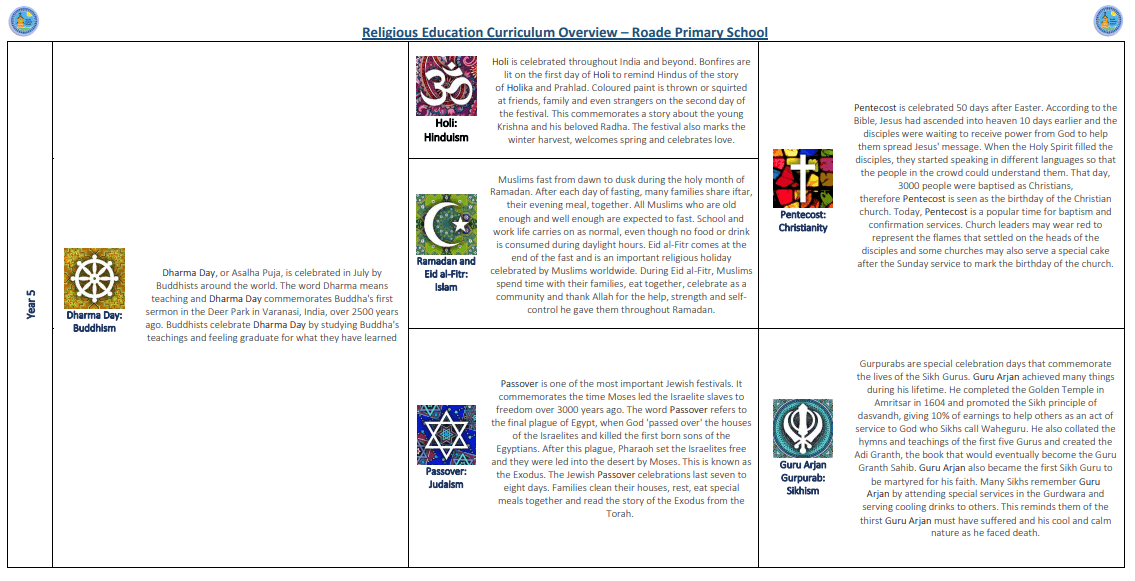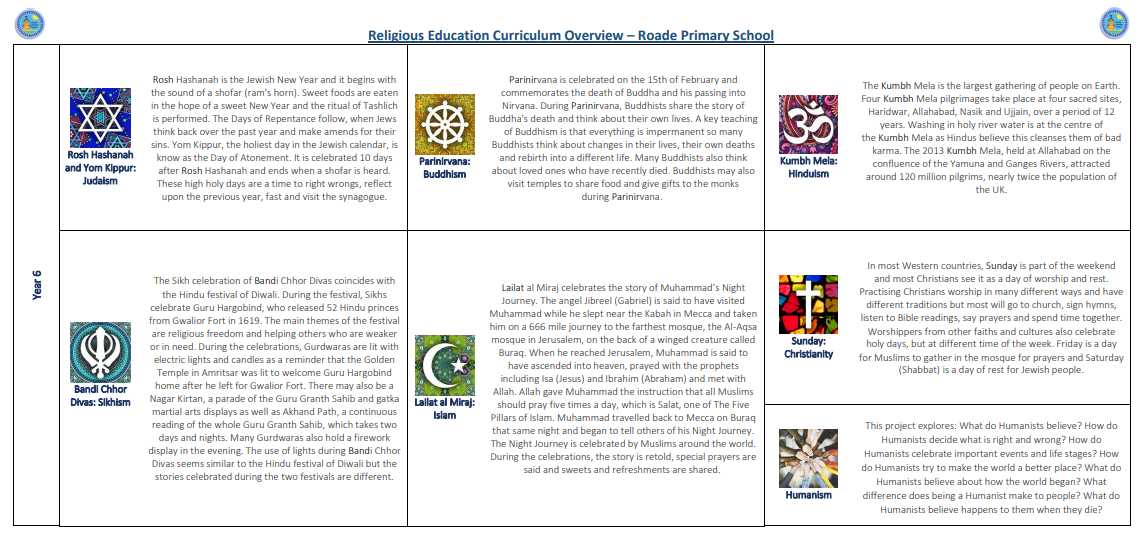 At Roade Primary School, we aim to ensure that all pupils reach their full potential, have respect for each other and care for the environment at school and in the world around them. RE has an important role to play in promoting this by providing a caring environment where children feel secure and able to express their views and beliefs.
They are encouraged to value their own opinions, whilst developing respect and sensitivity for the views of others. We want to ensure that the pupils: have a well-rounded knowledge of the main religions in the world today, know how to recognise the similarities and differences between them and have an awareness of the different beliefs surrounding particular concepts e.g. the environment or life after death.
Pupils will be encouraged to ask questions, to respond to different ideas and reflect and make links between beliefs and their own lives. Pupils are encouraged to understand the importance of the role that everyone must play in the life of the school and of the wider community. Links are being made with a variety of faith groups to help develop this aim.
Intent
Embedding the correct use of vocabulary relating to different religions.
Imparting a strong awareness of the key beliefs of different religions.
Supporting children to recognise similarities and differences between the different religions.
Giving the children the opportunity to identify how their and their families' beliefs fit in the world.
Developing and inspiring tolerance.
Implementation
At Roade Primary School, Religious Education will be taught with passion, tolerance and respect. The teachers will use their subject knowledge to teach about the religions of the world with impartiality as well as to inspire a deeper interest and curiosity in the children about the world around them.
Lessons will include discussions, with the children feeling able to share their own insights and ideas. Children will be able to talk about what they have learnt so far with confidence using the appropriate vocabulary and show a respect for beliefs that may differ from their own.
The Subject Lead will support staff by sharing useful resources and documentation that know how to enhance the experiences the children receive in RE lessons. They will provide links to opportunities for improving subject knowledge and other training, as well as developing links with the religious community that know how to be incorporated into lessons. This will give the children the chance to experience diversity in the community and witness faith in practice.
Impact
Our Vision is that children at Roade Primary School will:
Have a knowledge of the beliefs of the main world religions.
Use appropriate vocabulary relating to different religions and faiths.
Demonstrate tolerance.
The children will be prepared for life in the 21st Century.
Be able to recognise similarities and differences between the main religions of the world.
The children of Roade Primary School will leave to start their next stage of education with a solid knowledge of the different religions they may experience in the world, an understanding and tolerance that will enable them to find their place in the world and to build successfully relationships.